When Trump assumed the presidency, not a lot of celebrities are actually happy about it. Some of them even showed how much they dislike their new president, by being vocal on social media. There are also some who simply join rallies and demonstrations from time to time. It is very rare for celebrities to show support on the current president, it is either they are against him or they simply tolerate him and respects the fact that he is their president.
One particular celebrity has recently revealed his opinions on the president and how he actually supports him. Kanye West, known to be one of the biggest rappers of this generation and also being a part of the controversial Kardashian family by his marriage to Kim Kardashian, posted some Twitter rants wherein he has been making some pro-Trump statement almost the entire day last week, and this wasn't exactly something other celebrities were pretty happy about, so one of his friends, Chance the Rapper came into his rescue, continue reading to find out what went on.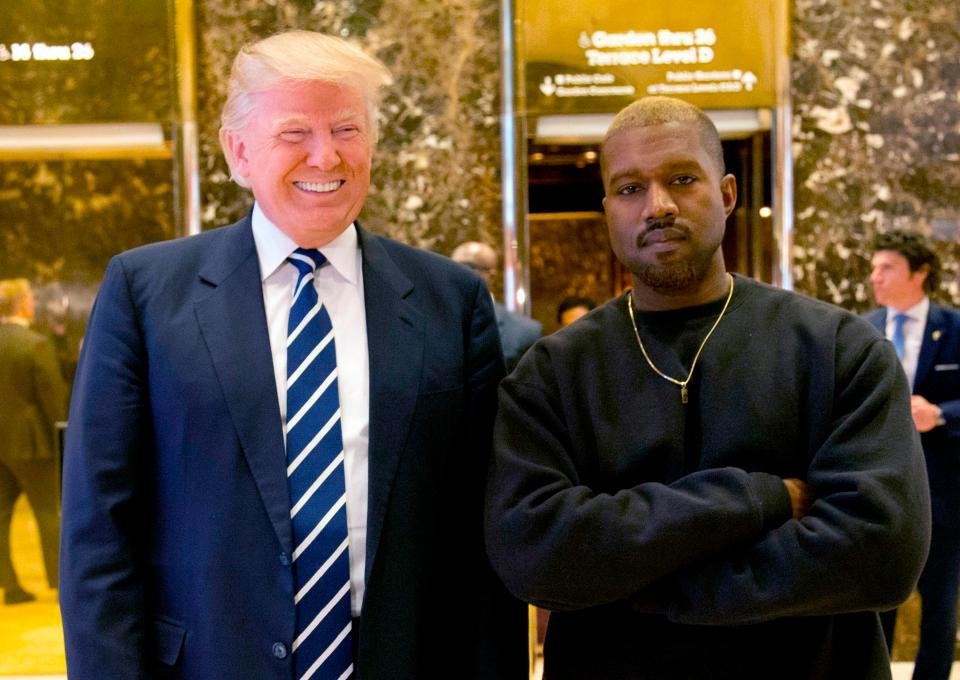 Kanye shows support on Trump
Chance Defends Kanye
Last week, Kanye went on a Twitter blast after posting a couple of tweets regarding his support on United States President Donald Trump. Although he clarified that he doesn't completed agree on every single thing Trump does, since he only agrees on himself. His presidential ambitions have also been staking claims and people speculates that he is trying to get some political support for when he actually runs.
Chance the Rapper then had to come to his rescue by posting a tweet where it says "Black people don't have to be Democrats," although he didn't really refer to Kanye about this, he kind of implied how the next president of the country won't be a democrat or a republican, because he or she will be independent. This is also said to be in relation to Kanye's plans to run for presidency in 2024.
Kanye West has performed a great service to the Black Community – Big things are happening and eyes are being opened for the first time in Decades – Legacy Stuff! Thank you also to Chance and Dr. Darrell Scott, they really get it (lowest Black & Hispanic unemployment in history).

— Donald J. Trump (@realDonaldTrump) April 27, 2018
All these Twitter rants came after the reports that says he just fired his manager Scooter Braun. This news actually came around after Ebro Darden said that Kanye actually admitted to him that no one exactly made him feel loved during the times that he had an addiction taking opioids. With the news of him firing his manager, all he ever said was the fact that he can't actually be managed.
He also explained how he got of his lawyer as well. According to the rapper, his former lawyer actually wouldn't come to work as a full time lawyer for him, which is also what his manager did so he ended up firing both of them. Kanye has been working on his clothing line called Yeezy, and he said that he hired a CEO as well as a CFO for it.
My fault yo pic.twitter.com/TIWhG8o1ST

— Chance The Rapper (@chancetherapper) April 27, 2018
His former manager wasn't just any other manager, that same guy is actually the one representing other Hollywood singers such as Arian Grande and Justin Bieber. He is not the only one who actually been fired from Kanye's inner circle, especially with the announcement of him working on not just one but five albums.
Kanye and Trump's Relationship
With his Twitter rants last week and even a photo of a hat that says "Make America Great Again" which was actually signed by the president, it would seem that Trump is pretty friends with the Kanye. Kanye hasn't been in good terms with the last two leaders of the country. In 2005, he actually called Bush a racist and in 2012, Obama said that the rapper is a complete jackass.
Kanye retaliated and said that he doesn't actually care about Obama and it is actually still on up to this date. Kanye tweeted that Obama never really did anything to change Chicago for the better during his term as president.
my MAGA hat is signed 🔥🔥🔥🔥🔥🔥🔥🔥🔥🔥🔥🔥🔥🔥🔥🔥🔥🔥🔥🔥🔥🔥🔥🔥🔥🔥🔥🔥🔥🔥 pic.twitter.com/DrDHJybS8V

— KANYE WEST (@kanyewest) April 25, 2018
When Trump was asked what he thought of Kanye, the president just said that the rapper's tweets simply justify his love for his commander in chief, who he even referred to as his brother. He also mentioned how he knew Kanye and he believes the rapper actually has good taste since they get along. The president even mentioned how he likes the fact that Kanye sees that the Democrats didn't actually do a great job at doing things to make the country better. Trump also said how he thinks Kanye is smart since he could notice these things.