Today's foodies aren't just looking for delicious food to devour they want an experience. They seek to wine and dine in unique locations with quirky concepts and a little bit of theatrics and drama, and what's more, they are ready to pay premium price for it all. If we were to look at the results of a survey conducted by Eventbrite, about 75% of the respondents believe that a unique dining experience is worth splurging more on. So maybe experiential dining is just not a vague trend after all, it can also be a great way for people in the food industry to make some money.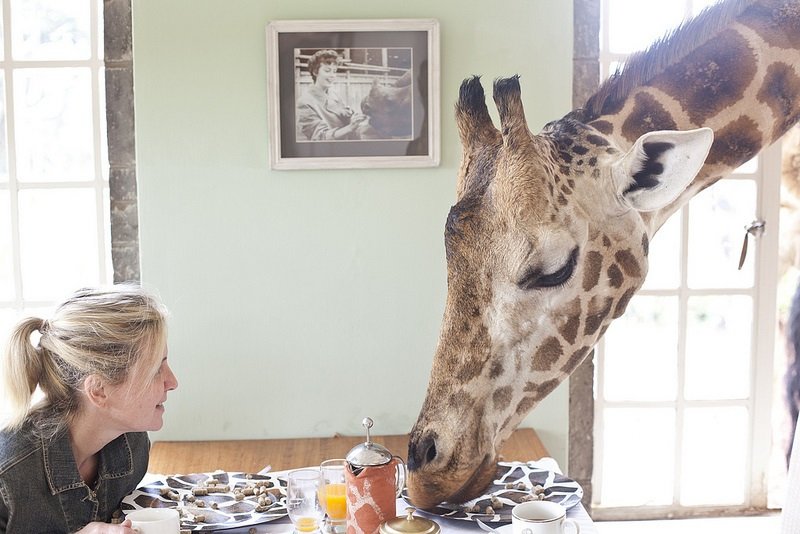 The popularity of experiential restaurants and food experiences push restaurant owners and chefs to up their ante and come up with exiting and novel beverage and food serving concepts. They need to work towards creating a sense of urgency, newness and exclusivity. So if you're looking to deviate from your mainstream restaurants and the run-of-the-mill experience it provides, we present to you six global restaurants that are completely out of the box.
Virtual Reality Dining at Tree, Tokyo
Since it's opening in July of 2017, this 3-leveled restaurant has been dishing out a slice of VR or Virtual Reality technology along with its food. This technology includes lighting, fragrance, music, art and projection mapping. They have an impressive 8-course meal, which follows the story about the growth of a tree, as guests have to move through the restaurant to access each course, which is meant to depict every stage of growth. One of the main highlights of this $207 per diner fusion restaurant is its Kuroge Wagyu beef, which brings guests flocking to the establishment.
Sky Dining Capsule, Singapore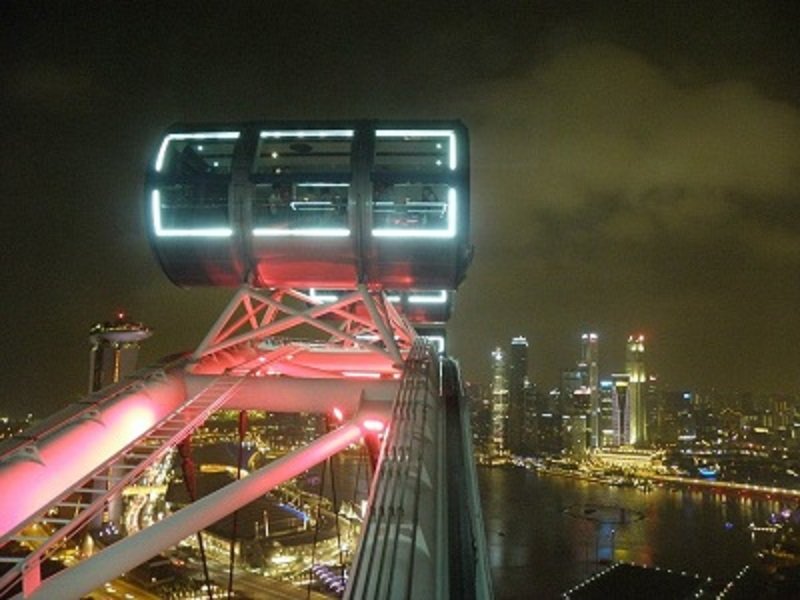 This is an ideal place to dine, given that you do not have vertigo or a fear of heights. The dinner is served inside a giant private capsule, which can seat 2 to 10 people, who get to enjoy a four-course Western, Chinese or Vegetarian dinner for about $1,550. As the observatory's wheel rotates slowly (about twice in 60 minutes), diners get to enjoy changing and awe-inspiring views of the city and it's twinkling lights below. Their menu is said to change every 6 months.
Dining in a Tree pod, Thailand
Nature lovers will fall head over heels for this place, as they get to enjoy the best of the luxuries of a resort along with the views of an untamed jungle. About a hour's flight away from Bangkok lies Soneva Kiri, where you can experience a 2-hour dining extravaganza in a cozy tree pod with 3 of your friends or loved ones. As you enjoy the scenic beauty and stunning views of ancient rainforests, you can taste the best that Thai Cuisine offers, which happen to be made with all organic ingredients. The waiters will be ready to serve all your dining needs, as they reach you via a short zip line ride.
Waterfall Restaurant, Philippines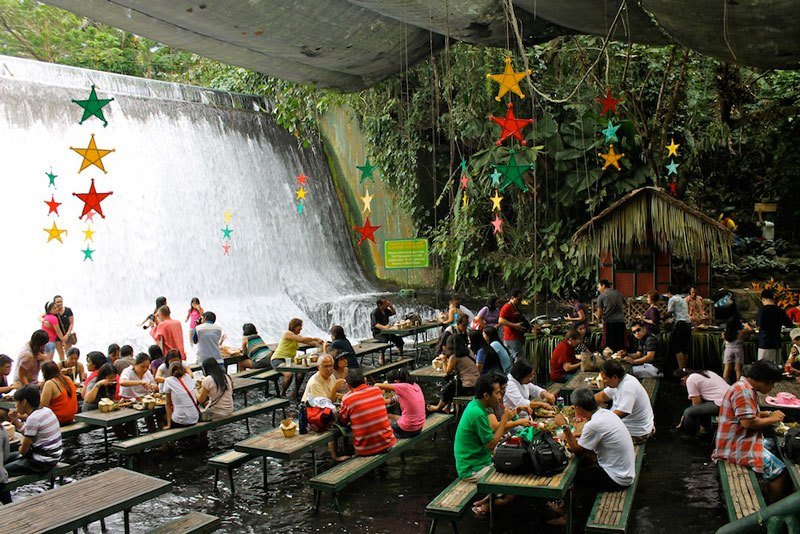 A lot of people can find waterfalls intimidating, and certainly all waterfalls aren't safe enough to get close to, but you're certainly safe at the one which hosts the Labasin Waterfalls Restaurant. As you fall in love with traditional Filipino dishes, you will enjoy with your feet submerged in the water. You can even sit under the gentle waterfall and feel the gushing water wash over you. The lunch buffet is not to be missed (11 am and 2 pm).
Undersea Restaurant, Maldives
This restaurant lies 16 feet below the ground and is made entirely out of glass so that the diners can enjoy a 180 degree view of the ocean above them, with blue waters, sharks and manta rays. If you visit Ithaa Undersea Restaurant in Maldives, expect to shell out upwards of $210 for lunch and about $325 for dinner consisting of contemporary European cuisine. Their 6-course menu features dishes like Carabineros prawn tartare pasta, stuffed reef lobster and plantain chips with quail egg gravlax.
Dinner in a Cave, Italy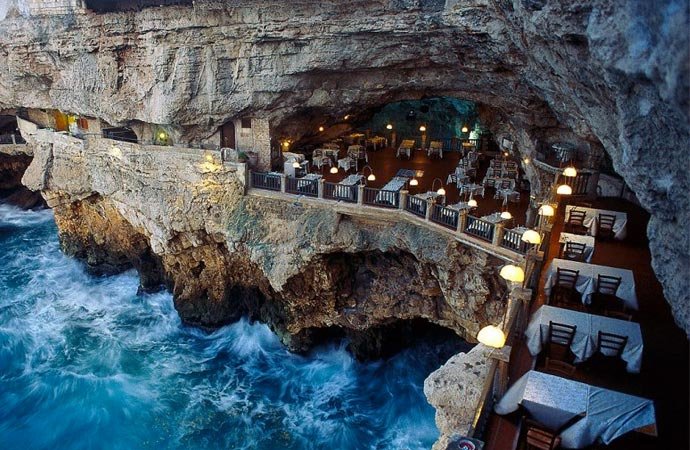 Perched on a cliff edge with amazing views of the Adriatic Sea, this restaurant called Grotta Palazzese has seen many a banquets and fancy parties, for over the 300+ years of it's existence. Situated in Southern Italy, you can savor traditional Apulian cuisine here with dishes such as crispy bacon, tentacle of roasted octopus, pesto pearls, Calamarata with amatriciana sauce and the mouthwatering Pecorino Romano cheese.