We Americans just love everything big – our TVs, cars, homes and even food needs to be the biggest there is. Some big-food connoisseurs have even gone on to set world records for the biggest 'this' or the hugest 'that'. This is precisely why we have brought to you this list of the largest foods ever made by mankind, and believe us when we say they are ridiculously huge!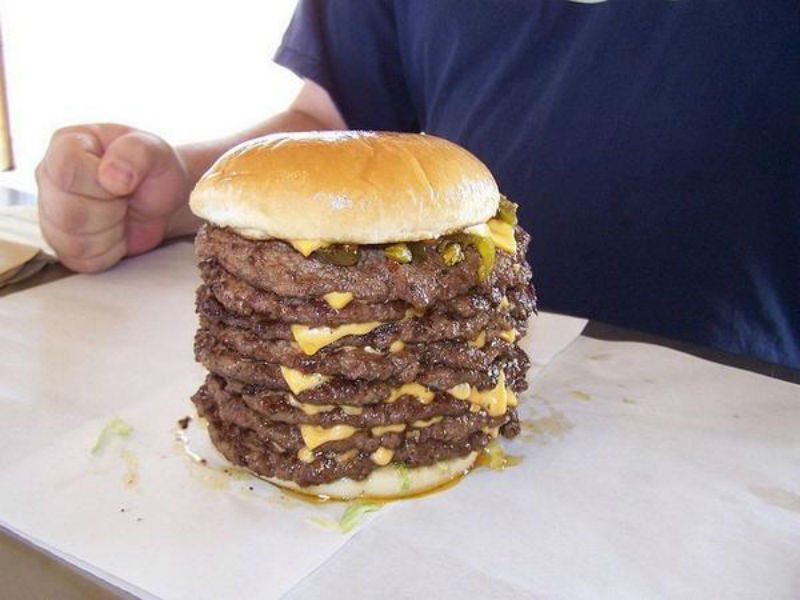 The lengths (breadth and height!) that people will go to, just to enter the record books are at fanatic-levels and even the non-Americans have joined in on the fun, spending time, resources and a whole lot of money for their 15 seconds of fame. Not to undermine their efforts, the food always is given to their community and is not wasted, at the end of the day. So whether it's a pizza you're craving, or just your homely mac n cheese, we got you covered!
Largest chicken nugget
Empire Kosher in Mifflintown, PA made a 51.1 lb. nugget to celebrate its 75th Anniversary in 2013. Being the largest kosher poultry producer, they had to do something big, and big is what they did, as the nugget measured 3.25 ft. by 2 ft. Just so you know, the single giant nugget is the size of 750 regular sized nuggets and took 3 whole hours to cook.
Biggest burger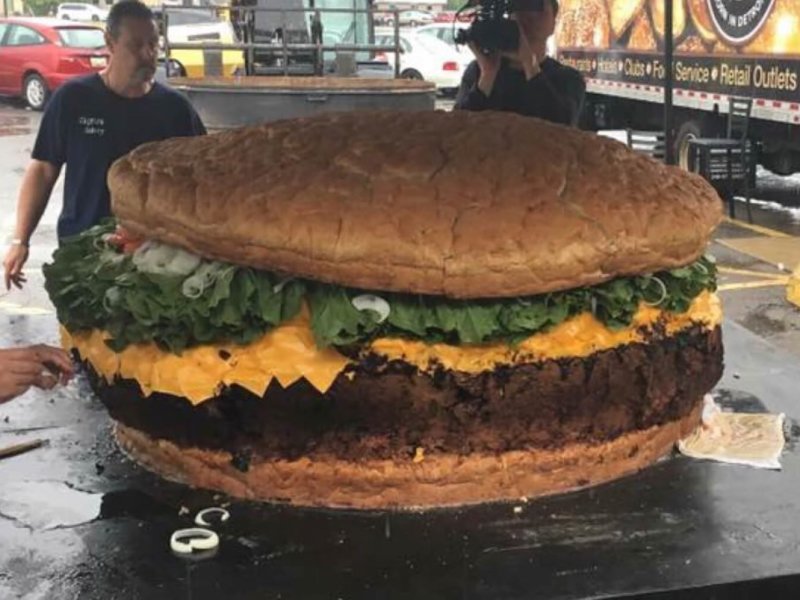 50 lbs. of lettuce, 50 lbs. of sliced onions, 40 lbs. of pickles, 40 lbs. of cheese and 60 lbs. of bacon went into making this 2,014 lb. burger in Carlton, MN. Black Bear Casino and Resort created this crazy bacon cheeseburger and it took them 7 hours to bake the bun and another 4 to cook the patty. To give you a fair comparison, this burger weights as much as 225 average sized house cats.
Largest batch of nachos
This noble initiative aimed to raise funds for LINK Kitchen, which is based in Kansas and gives homemade food to the hungry and homeless. Over 80 volunteers made this 80 ft. long, 4,689 lbs. dish with soggy, cheesy and salsa-laden chips, which was enjoyed by loads of people present on that day at the University of Kansas.
Biggest gingerbread house
A man named Robert Pelcher built a lavishly edible house in Bloomington, MN with the help of volunteers. It took about 1,700 hours to build the structure, which spread across 1,500 square ft. and was 60 ft. tall. It needed icing to the tune of 4,750 lbs., 14,250 lbs. of gingerbread, and 1 ton in candy.
Largest gluten-free pizza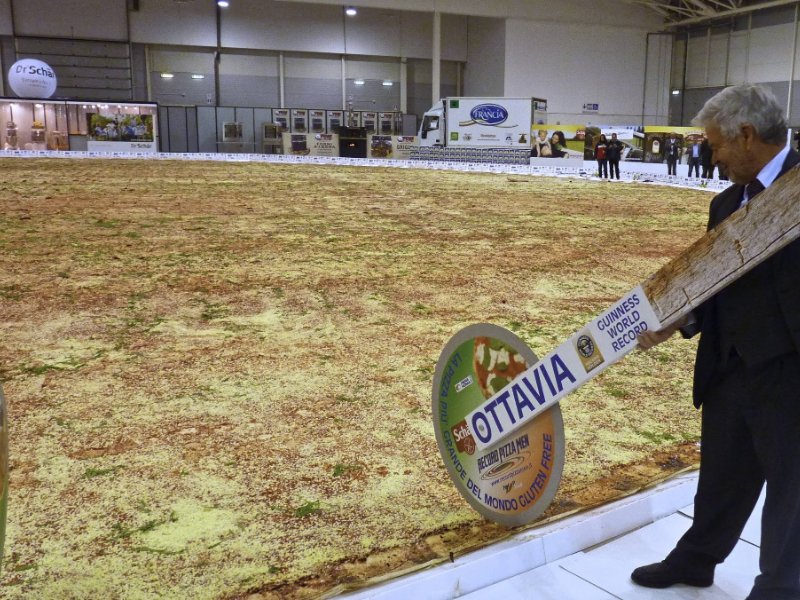 This pie made in Rome, Italy needed 10,000 lbs. of tomato sauce, 1,488 lbs. of margarine, 551 lbs. of rock salt, 55 lbs. of vinegar, 8,800 lbs. of mozzarella cheese and 19,800 lbs. of flour. In the end the pizza was a massive 131 ft. in diameter and weighed 5,125 lbs. It took 5 chef 48 hours to bake the base in 5,000 batches. And it's gluten free, so the ones who are allergic to it, certainly had a field day!
Biggest chocolate bar
Thorthons in Derbyshire, UK was celebrating their 100th year of chocolate making and they knew they had to do something huge. So they did! The end result weighed an impressive 12,770 lbs. The mold itself took 10 hours to fill with liquid chocolate and 3 whole days for it to cool down and set properly.
Biggest bowl of mac & cheese
What do you get when you mix 56 lbs. of butter, 57 lbs. of cooked macaroni, 286 lbs. of mixed cheese, 1,100 lbs. of milk 61 lbs. of dry seasoning and 26 lbs. of flour? Only 2,469 lbs. of mac & cheese! In 2010 the Cabot Creamery Cooperative and chef John Folse cooked up this delicious vat of cheesy goodness in a cast iron pot from the 18thcentury!
Largest pancake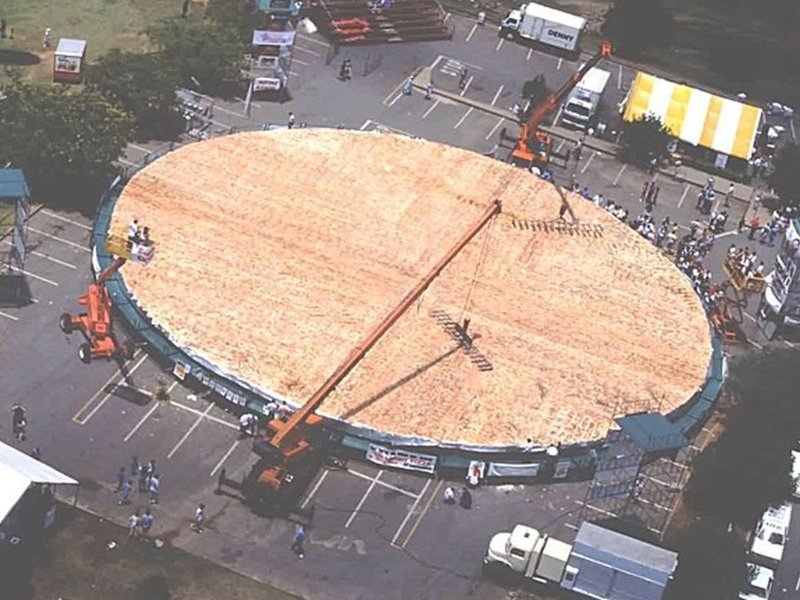 We didn't know that the good folks of Manchester, United Kingdom took their pancakes so seriously that they had to use construction tools to make the largest one. That's right, it took a crane to flip over this gigantic 6,614 lbs. pancake, which was 49 ft. in diameter. And you through flipping over a regular sized breakfast pancakes were difficult!
Biggest ice cream cake
Weighing 10.1 metric tons and measuring 14 ft. 7 in. by 13 ft. 3 in. by 3 ft. 3 in., this slice of frozen heaven was made by students of the University of Toronto studying Applied Chemistry and Chemical Engineering. Of course you need all that science to make sure that the world's biggest ice cream does not melt or collapse on itself.