Some of the most celebrated chefs make the finest food on the planet. But have you ever wondered what they enjoy eating when they aren't in their kitchens? Ten of the world's best known chefs were asked to reveal the best meal they have ever savored, and the answers ranged from Michelin-starred meals in various countries to a food cart in NYC. Scroll on down to find out which of your favorite chefs have been floored by pizza and who loved the Miso black cod…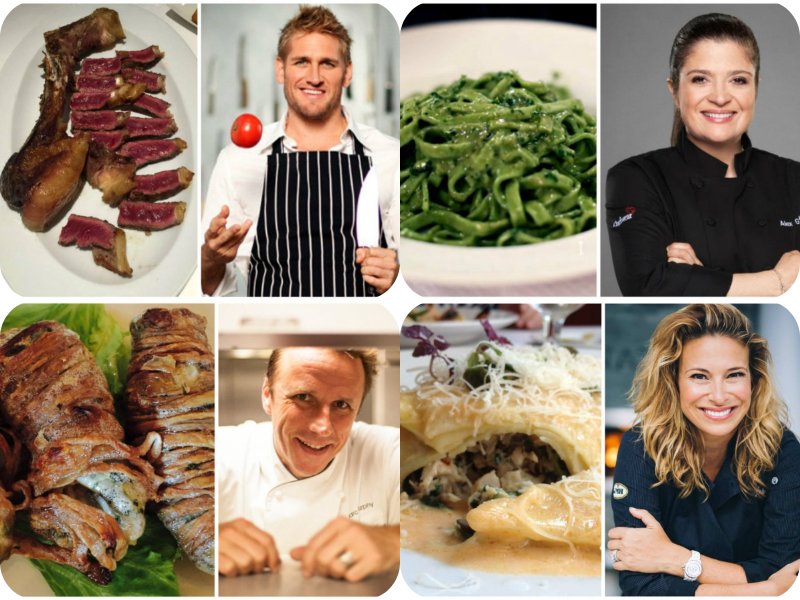 Curtis Stone – Restaurante Alameda's chuleton (Spanish steak) in Rioja, Spain
The owner of Maude, in California's posh Beverly Hills, had just returned from a trip to Spain, where he traveled with his restaurant team to do research and learn about Spanish cuisine. They had many memorable meals, but one, which stuck out, was the steak called chuleton. He says that the beef was sourced from Galicia and had the perfect balance of fat and meat.
Alex Guarnaschelli – La Merenda's pesto pasta in Nice, France
The name of this restaurant may sound fancy but it only has communal tables and stools, no reservations, no phone and no frills. Also, you can't pay with plastic money. Alex from NYC's Butter restaurant loved the great flavors and hospitality here. She also loved the fresh pasta on hot pesto, which is simple and satiating.
Marc Murphy – kokorec from Istanbul's streets kiosks
Marc was introduced to Istanbul's street food called kokorec when he was touring the region a few years ago, which he says was mouthwatering and even called it a highlight from his trip. The dish consists of flame roasted intestines of a lamb which is wrapped around freshly baked bread, slathered with olive oil and Turkish spices.
Donatella Arpaia – Cellini's imbustata "envelope" pasta in New York City
Having eaten a lot of good dishes from around the world, Donatella carefully chose Cellini's signature pasta called the imbustata which is an envelope pasta, full of chicken shiitake, baked and then drowned in some creamy vodka sauce. He also recommends their ricotta cheesecake.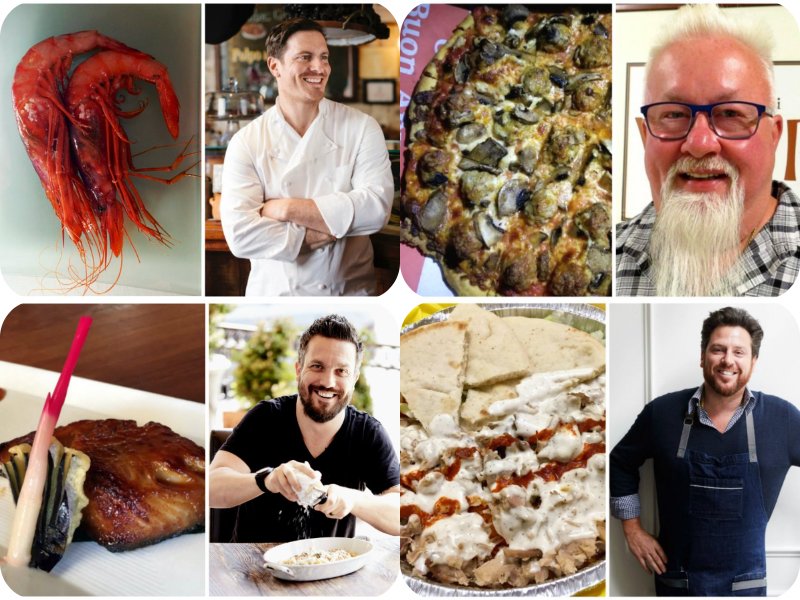 Seamus Mullen –  Anything and everything from Etxebarri in Axpe, Spain.
Seamus swears by this restaurant, and appreciated their grilled food in an open fire, with simple and beautifully prepared ingredients. He has had the grilled scarlet prawns, baby eel, snails, turbot (flatfish), mushrooms and the 12-year-old ox steak. So he pretty much recommends anything off their menu.
Ray "Dr. BBQ" Lampe – Villa Nova's cheese and sausage pizza in Stickney, Illinois
Ray calls the cheese and sausage pizza, the perfect pizza with its crispy layer, stretchy cheese, light sauce and fennel-laced sausage. He would like to dispel the myth that Chicagoans eat their deep dish pizzas all the time, in reality, they love the thin crust kind too.
Fabio Viviani –  Nobu's miso black cod in Malibu
Fabio loves the miso black cod from Malibu's Nobu so much that he always stops by whenever he is in town, and has to order the cod. This dish has actually been copied by a lot of chefs, and it's completely understandable why.  The cod is always tender, moist and delicious and Fabio still remembers the first time he tasted it.
Scott Conant – white sauce, chicken and rice from a particular halal street cart in NYC
Many people may overlook the halal carts in NYC, but not Scott. He loves the chicken and rice dish, which he describes as homely and comforting as the rice absorbs the chicken's flavor to take you back to your childhood. He also recommends adding the extra hot chilly sauce and white sauce which elevate the dish.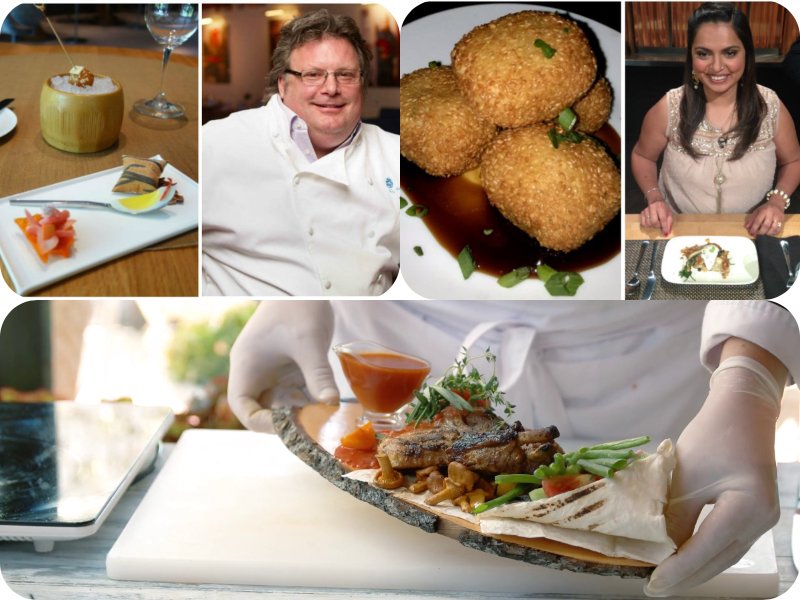 David Burke – Maison Troisgros's every dish from their tasting menu in Roanne, France
During a 3-month culinary stage in France, chef David Burke stopped by Maison Troisgros for lunch, and the food from their tasting menu blew his mind. Calling the food exquisite and exciting, he was left feeling inspired, all through the long train ride which he took right after. He got to sample their foie gras, julienned pickled vegetables, oysters, pigeon with chestnuts, salmon with sorrel, crème brûlée flavored with jasmine tea and passion fruit crepe soufflé. He adds that the meal and it's effect on him was priceless.
Maneet Chauhan – Tànsuǒ's sesame golden eggs in Nashville, Tennessee
Maneet says that she is 'obsessed' with one particular dish from the restaurant Tànsuǒ, and it is called the sesame golden eggs. Don't let the name fool you, it's a lot more than the name lets on. The crunchiness from the sesame is contrasted by the rice flour's chewiness, with the umami flavor from the mushroom and the silken tofu inside are very satisfying.