The whole world is still cheering for Colin Kaepernick even though he didn't have any job to do on the playing field. A few days back, Amnesty awards held at Amsterdam, in which Colin Kaepernick was awarded the highest honor – the 2018 Ambassador of Conscience Award.
This award had only two winners, one was given to Nelson Mandela, the former president of South Africa, and the second was given to Pakistan's educationist Malala Yousafzai who was attacked by the Taliban back in October 2012.
The organization recognized the actions of Kaepernick as he protested many times against police violence, bow down when the national anthem played during an NFL game, ignited a movement that was copied by the whole America, made a speech about patriotism which was then inflamed by Trump. All these actions contributed towards winning the highest International Amnesty award for Colin.
While giving an interview, Augusta Quiney, the director of Amnesty International Awards said that when elite-class people take stand for the rights of the normal people, it gives strength to them.
She further said that the actions of Colin give us the opportunity to be on the right side of the world. In an official statement released by the Amnesty International, Kaepernick said that all the people who took part in the protest are entitled to this award. He added that he does not care about the color of people, as far as they are against this brutal violence of the police, he will stand with them.
Kaepernick said that his gesture of kneeling down is to demonstrate that who are excluded from the freedom and justice and his protest shows love for the people. Eric Reid, the former teammate of Kaepernick, presented the international amnesty award to Kaepernick. Reid also joined Kaepernick in kneeling down during the national anthem in an NFL game.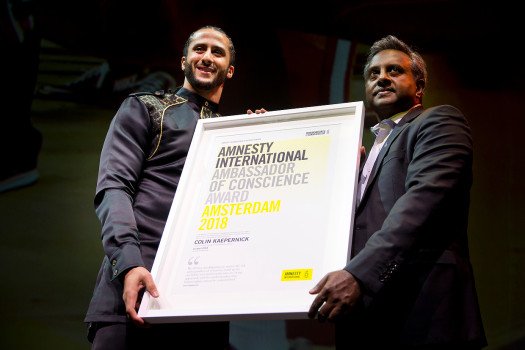 While talking about such incidents in the past, Quiney said that this summer is the 50th anniversary of 1968 Mexico City Olympics. And at this event, US stars like Tommy Smith and John Carlos raised fingers over the medal stand and this way they recorded their protest against the American police abuse.
The history is full of such incidents where well-known people protested against the American abuse and then humiliated by the third parties. Famous athletes like Muhammad Ali and Smith who refused to serve in Vietnam and protested against the Vietnam war faced serious consequences for their actions. Smith received several death threats while Ali lost all his career earning.
Quiney labeled Kaepernick as the successor of 1960's athletes. Kaepernick was offered many healthy contracts by NFL teams but he didn't sign for any of those teams. When asked about whether he would continue kneeling down during the anthem, Kaepernick said yes he would. And that's why Seattle Seahawks pulled out from the contract signed with Kaepernick.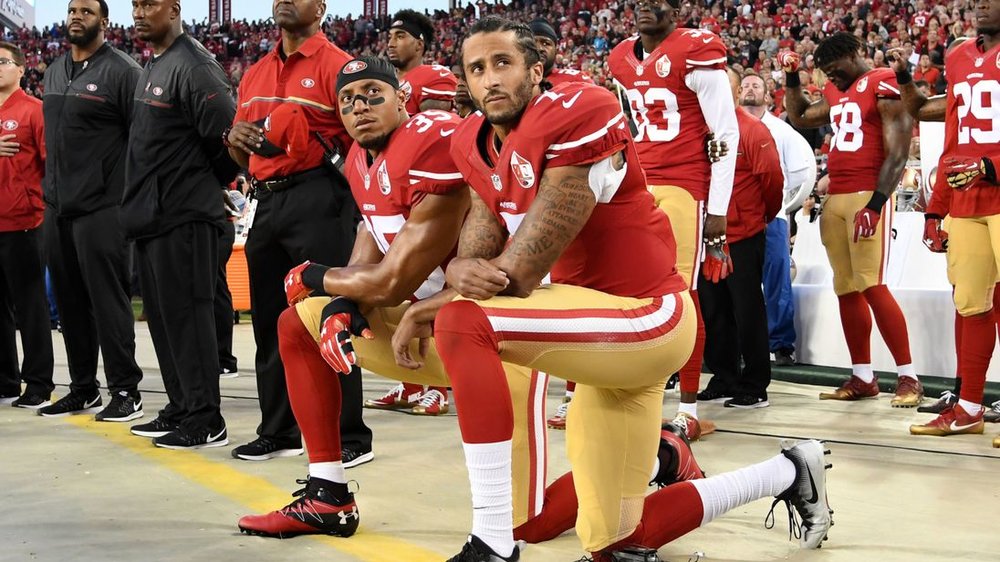 Kaepernick paid a big price for protesting against the police abuse as no NFL franchise agreed to work with him. Kaepernick had also filed a case against the commissioner of NFL Roger Goodell and last week Goodell was removed from his seat. Nowadays, Kaepernick is sitting idle as a player but his contribution in a collusion case against the commissioner of NFL has deposed Goodell from his seat.
Even though protest cost him a lot as a player but in the second world, he was honored a lot by the people as he achieved many honourary awards due to his protests. Sports Illustrated honored him with Muhammad Ali Legacy award back in November. And after a month, he was awarded Eason Monroe Courageous Advocate Award by ACLU. And now Kaepernick has been recognized internationally by receiving Amnesty International award.
Talking further about Kaepernick's amnesty award, Quiney said that it is up to the people to live a routine life or act according to their conscience. She further said that people like Kaepernick are rare as they do not care about their profession and speak about the rights of the people. Quiney also said that people like Colin cannot be silenced and their voice can gather a mob of people.