Mike Pompeo, CIA director,  is nominated as the new state secretary. A few days back, Pompeo won the intense nomination battle as he triumphed the election by 57-42 vote ratio. Pompeo had the full support of all the Republicans as he was the choice of Donald Trump. After winning the election, Pompeo took oath in the Supreme Court judged by Justice Samuel Alito. Pompeo's nomination followed by another nomination as Richard Grenell was elected as the ambassador to Germany. Just like Pompeo, Grenell was also the president's choice. The former spokesman won the election by 56-42.
It is reported that Grenell's name was chosen after a meeting held between the Trump and Angela Merkel, the German Chancellor.
Pompeo replaced Rex Tillerson who dived out by Trump last month. He will always prefer America's interest first and I completely trust him, said Trump after Pompeo's nomination. The selection of Pompeo was forced to be completed by Thursday as Trump administration wanted him to head the NATO meeting held on Friday.
Pompeo will address many issues following his nomination. Some of those include Trump's meeting with Kim Jong Un and a decision on Iran's nuclear deal. On Thursday, a photo of Pompeo with Kim Jo was tweeted by White House press secretary Sarah Sanders.
Great to have Secretary Pompeo confirmed. He will do an excellent job helping @POTUS lead our efforts to denuclearize the Korean Peninsula. (photos from previously confirmed Easter weekend trip) pic.twitter.com/o4RNDKVmah

— Sarah Sanders (@PressSec) April 26, 2018
Rex Tillerson's departure was announced by Trump in March but the appointment of Pompeo took too long for Trump administration. However, Pompeo's nomination was not straightforward as he barely crossed the line. Sen. Johnny Isakson who supposed to vote in favor of Pompeo missed the election due to a funeral, but later Delaware Democratic Sen who opposed Pompeo first agreed to vote in his favor.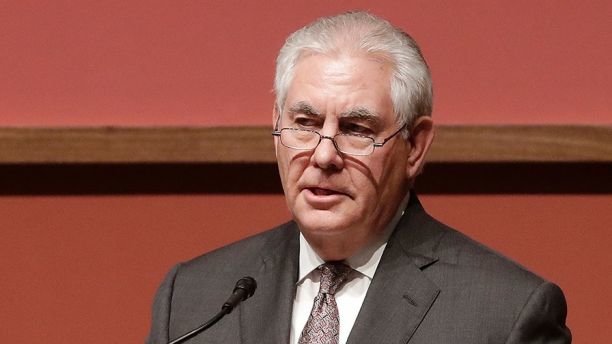 Trump criticized those who opposed Pompeo in the nomination. In his tweet, Trump said he can't believe those who voted against Pompeo. I think the Democrats do not want good people like Pompeo and Grenell, said Trump. He further said the delay in these nominations were due to the Dems, and they need more Republicans.
It seems that Trump has complete faith over Pompeo as he sent him to North Korea for a meeting with the leader of the rogue state. Many Democrats were not happy with Pompeo's visit to North Korea. Sen. Bob Menendez, a Democrat, said that he believes the diplomacy should not be discussed openly but when a nominee for the state of secretary is asked about the insights of such a huge meeting, he should share the details with the committee leadership.
Trump had some disagreements with Tillerson which led towards his expulsion. However, the president had a lot to praise for Pompeo as he praised Pompeo's energy and intelligence. Trump said that they have many things common and their relationship is very good.
Pompeo still looked poised as he barely crossed the line in the Senate elections. Pompeo got 51 votes as a couple of Democrats announced to support him. Sen. Joe Donnelly, an Indiana Democrat, was the latest to praise Pompeo. In his tweet, Donnelly said that he believes Pompeo is the best option for the interest of the United States. After Donnelly's support, Sen. Joe Manchin and Sen. Heidi Heitkamp also announced to support Pompeo.
Manchin said that he had a meeting with Pompeo, and taking into account his experience as a CIA director and knowing his foreign policies, he thinks he is the best option to be nominated as the secretary of the state
Sen. Rand Paul said in an interview that he voted for Pompeo after the president assured him that Pompeo will promote the president's foreign policy. He added that he always supported the foreign policy of the president and that's what motivated him to vote for Pompeo.
Before the Senate elections, all the Democrats said that they will vote against Pompeo. Mike Pompeo, working as a CIA director, is a former Republican. On hearing that Sen. Rand Paul voted for Pompeo, Trump said that Paul is a good man and his selection will never let him down.
Mike Pompeo who was confirmed as CIA director by winning 66-32 last year, now had a severe challenge to face as a secretary of the state from the lawmakers.