The entire American nation is grieving since one of their most down to earth First Ladies had passed. The former First Lady, Barbara Pierce Bush died last week after suffering from congestive heart failure and pulmonary disease for such a long time. Barbara was actually the wife of George H. W. Bush, the 41st President of the United States and was also the mother of George W. Bush, the 43rd President of the United States.
People remember her to be very humble despite having a husband and a son to be the leaders of the country. When her husband was elected as the president, she made it a point to focus on being involved with organizations about family literacy and even developed the Barbara Bush Foundation for Family Literacy. For so many years, she has managed to dedicate her public service to eliminate illiteracy in the country Andean always seems reading books to children.
Bush is so loved by so many because of the fact that she managed to avoid controversies unlike Nancy Regan and Hillary Clinton, her down to earth persona and approach to her countrymen stood out the most. Unfortunately, it was announced last week by the Office of George H. W. Bush, that the former First Lady and the matriarch of the Bush family have died, continue reading to find out more details regarding her death and funeral.
Heading to the Southern White House to watch the Funeral Service of Barbara Bush. First Lady Melania has arrived in Houston to pay our respects. Will be a beautiful day!

— Donald J. Trump (@realDonaldTrump) April 21, 2018
Barbara Bush Dies At 92
According to the statement that was released, by the spokesperson of the family, Bush passed away on the 17th of April, who was survived by her husband of 73 years. She had been surrounded by five children including former US President George Bush, along with 17 grandchildren as well as seven great-grandchildren.
Her son also confirmed her death by paying her a tribute saying that they will indeed miss her terribly but they will also be at peace knowing she was. He also mentioned how he feels incredibly lucky to have her as his mother. Her death actually came right after she said that she no longer wants to be treated. Bush had been hospitalized for the past couple of years along with her husband who has even been in the intensive care unit last year. The statement confirmed that the family granted her wish for not continuing her medical treatment.
Statement by President George W. Bush on the passing of Mrs. Barbara Bush: https://t.co/PwYs9SHwo3 pic.twitter.com/FZMcRwv0Ve

— George W. Bush Presidential Center (@TheBushCenter) April 18, 2018
During her final years, the former First Lady spent time with her husband and family in their home in Houston, Texas. When she turned 90, she said in an interview with People magazine that she wouldn't be skydiving just like what her husband did when he reached the milestone. Barbara joked about how she is way too smart to actually jump off a plane that is in a perfectly good shape. She even mentioned how she is not an idiot who would do something like that just because she turned 90.
Presidential Couples: A Rare Moment
More than a thousand people gathered at the biggest Episcopal church in the country to pay their respects at the funeral of the former First Lady Barbara Bush. At times like this, politics must be pushed to the side and that is exactly what these notable people have done, because current First Lady Melanie Trump made an appearance to the funeral along with former president Bill Clinton and his wife former First Lady and former Secretary of State, Hillary Clinton, former president Barack Obama with his wife former First Lady Michelle Obama, all went to the funeral.
Unfortunately, US president Donald Trump didn't attend the funeral. According to the White House, the president wants to "avoid any disruptions due to added security and out of respect to the Bush family", hence only Melania attended. However, he did send his condolences to the family via Twitter when the news that the former First Lady passed away. Trump even described her as a wonderful person.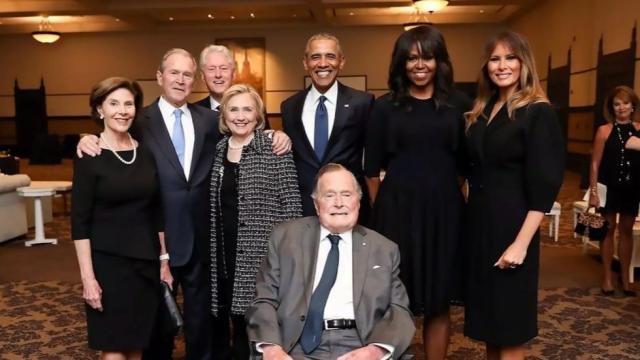 This has got to be the very first time that former President's and First Ladies of the United States have gathered and were captured in a single photograph. It included former president George H.W. Bush, with his son former president George W. Bush and his wife former First Lady Laura Bush, together with former president Bill Clinton and his wife former First Lady Hillary Clinton, alongside former president Barack Obama and his wife former First Lady Michelle Obama, with the current First Lady Melania Trump.