Tammy Duckworth had a baby girl named Maile Pearl Bowlsbey last week. And now Maile Pearl Bowlsbey is already taking part as a reinforcement for his mother as she came along with her mother Tammy to cast the vote. According to US Senate rules, only senators are allowed in the senate-house but later on Wednesday, it was unanimously announced that the newborn baby Maile Pearl Bowlsbey can come along with her mother to cast the vote. The US Senate rule says that no senator can come with a child less than one year of age.
Duckworth makes history with newborn on Senate floor

Tammy Duckworth, the first senator in U.S. history to give birth in office, brought her child to the Senate floor to send a message that all workplaces should make accommodations for working parents. The last time the hidebound Senate allowed new entrants was in 1977 when service dogs were granted admission.

Posted by POLITICO on Thursday, April 19, 2018
Sen. Tammy Duckworth cast the vote on Senate floor along her newborn baby Maile.
After that Tammy thanked her colleagues for making her moment historic. She added that new parents have plenty of work to do and this is not an issue with me but with every parent. Maile was born on April 9 and her mother wanted to keep Maile with her during her Senate duty.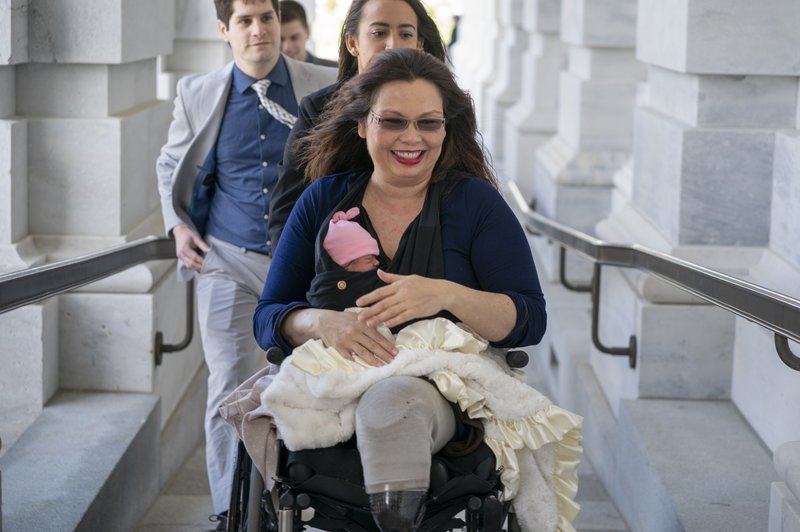 Tammy is also one of the first women to give birth to a child while she was on duty. Tammy was in office when she gave birth to Maile. Duckworth gave birth to her first child back in 2014 and at that time she was a member of Representative House.
Tammy is handicapped as she lost her both legs during a war in Iraq. After she gave birth to Maile, Duckworth told that parenting is the duty of every parent and it affects everyone's life. She said that being a mother will always make her stronger while doing her duty as a senator and urges her to work for other families.
In her early days, Duckworth served for more than two decades in Illinois Army National Guard. When she retired from the armed forces back in 2014, Tammy was at the rank of lieutenant colonel. Tammy lost her both legs when she was piloting a helicopter in Iraq war and a missile hit the helicopter.
Many politicians expressed their feelings on this rule change as Richard Shelby the Republican said that we should facilitate people as much as we can. He further told that US Senate is progressing well towards evolution and evolution is necessary for every field of life. In answering the question why US Senate is evolving slowly, Roy Blunt said that it is due to the fact that Tammy is the first lady to give birth while in the office. Roy Blunt is working as Rules Committee chairman.
Blunt further said that there was no baby on the US Senate floor because there was no female senator with the babies before. He also said that he worked hard to approve this change without facing any opposition. Amy Klobuchar, a top Democrat said that everyday parents do their best to be a good mom, dad and they also work hard to complete their professional duties. And the US Senate should accommodate the parents as much as possible. Every senate member praised this rule change and said that it is a positive change as there are 23 female senators currently in the Senate.
While giving his views on this rule change Sen. R-Maine said that this rule will allow parents having kids under one year to keep their babies with themselves in working hours. Also, the Senate working will remain uninterrupted. However, everyone was not happy with this rule change as Sen. Susan Collins said that other people working would definitely be disturbed if there are babies crawling around.
This is a pretty logical and simple change and Senate should have done this before but the Senate is a slow evolving place. Senate rules are very hard to change as Mike Enzi, Budget Committee chairman, took years to allow senators to bring laptops with themselves to note down the budget amendments. While speaking on laptop issue, Enzi told that a senator told him that he couldn't type and he was interrupting the Senate proceedings. Enzi also said that allowing an infant to come along with the parents would allow the parents to work smoothly.
Tammy also tweeted in which she showed a picture of Maile's clothes saying that the baby is also ready to cast the Senate vote.
I may have to vote today, so Maile's outfit is prepped. I made sure she has a jacket so she doesn't violate the Senate floor dress code (which requires blazers). I'm not sure what the policy is on duckling onesies, but I think we're ready pic.twitter.com/SsNHEuSVnY

— Tammy Duckworth (@SenDuckworth) April 19, 2018